The Clothing Barn
NEW THIS YEAR
Thanks to our wonderful volunteers, The Clothing Barn will be open every Saturday from 9:30 – 12:30 in October, through 10/31!
A lot has been mentioned about the Clothing Barn, so it may interest you to know how it started..  The Lord's Acre Auction began back in 1949 and of course we sold  clothes.  It's hard to imagine the auction we have today taking place in just the church building and the old barn – but it did!!  Some of us recall the huge boxes and piles of clothes in the middle of the floor with people pawing through them, throwing them every which way – for ten or twenty-five cents per item.  The really good stuff got hung on a big clothes rack – probably about 8 ft long on each side.  Men's clothes were in a different section.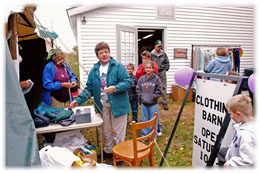 Jane Rendell was in charge of clothes in the early days and stored them down in her house – the "Hotel" – and at auction time they were loaded up and brought up to the church.  Since the Auction has always been in October, it was always the winter clothes that were for sale.  In the late 70's someone wondered if there could possibly be a "Spring Sale" at which we could sell the summer clothes, along with books, items from the White Elephant section, linens etc. – thus it began and was held every May until about 1997.   Rosemary Moore felt there was a need for good used clothing throughout the summer and thus THE CLOTHING BARN. Was born. We moved from the Sunday School room out to the back section of the original barn.  We continued to sell Men's clothing only at Auction – because of lack of space.  Women and children's clothes were all crowded into that back room of the old barn!!
When the new barn was built in 1999, room to expand the Clothing Barn was added and it became what it is today – it includes Men's clothing as well as shoes, boots and all accessories.
As with all projects it takes a lot of work to keep it going so please come join us in this most successful project.