The Lord's Acre Auction and Sale
Save the Date:  October 14th, 2017
The 69th annual Lord's Acre Auction and Sale will be happening on 10/14. We have lots of stuff to sell thanks to all the wonderful donations from the community.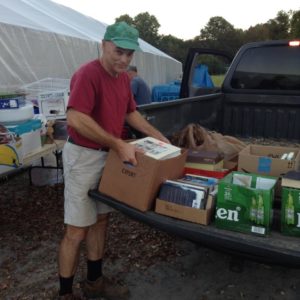 No more donations for 2017.
  On auction day we will have a brief worship service @ 8:00
Most departments open @ 8:30 am
 The White Elephant department opens @ 10:00 am
The Auctioneer starts @ 10:30 am
Auction items not accepted Article 
History of the Lord's Acre Auction
The Lord's Acre Auction and Sale has been a community tradition since 1949, always happening on the Saturday after the Columbus Day holiday. It has grown in size and scale over the years, and is now one of the largest annual single-day events in northern Columbia County. People come from far and wide to enjoy the fresh air and sample some of our amazing homemade food, and of course snap up some bargains. One of the most enjoyable things about the Auction is that every year is different – we never know ahead of time what we will have for sale. With all the different departments we have, there are very few things you need in your home that you can't find at The Lord's Acre Auction and Sale!
The Auction does not happen without a lot of hard work by a lot of people. Leading the charge are our department heads: Doris Appel, Emma Sluus, Wayne Shelton, Susannah White, Nici Fix, Paul & Lisa Herrington, Ed & Maureen Gardner, Liz Hurley, Broome & Penny Spiro and Andy Tillman. Fortunately, we get tremendous support from the community for this endeavor, and many people work on the Auction who are not members of this church. We couldn't do it without so much wonderful help, which we are always thankful for.
Starting around the first of May, we are at the barn every Saturday morning from 9:30-Noon to accept donations. From August 1 through October 1, we are also there Wednesday evenings from 6:30-8:00 to accept donations.  If anyone cannot come during those hours, we can be there to meet them by appointment. We are always looking for donations of good quality, new or used items that we can sell in October.  To make arrangements for pickups, call the church at 766-3535 ext. 3 (The Clothing Barn). Please note that our deadline for pickups and donations is October 1.
We are proud of the Mission aspects of The Lord's Acre Auction and Sale, which have grown over the last few years. We have donated unsold items to a number of causes, including the Salvation Army, The Capital Area Rescue Mission, Montessori School, Filipino students studying in the US, and numerous other causes. If you know of an organization or group that might be able to put Auction "leftovers" to good use, please let us know.
If you already support the Auction in some way, we thank you and look forward to seeing you again. If you have never been involved in The Lord's Acre Auction and Sale, please consider helping in some way. We can always use help on Saturday mornings for accepting donations. From August 1st until the big day  (October 14th this year), we do setup on Saturday mornings and Wednesday evenings. If you can help, we would love to have you join us – just let us know! We have a good group of people to work with, and do our best to make the tasks fun. Try it – you might find you like it!